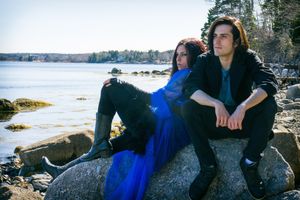 "

While Canada's East Coast is perhaps best known for exporting artists of the fiddle and folk variety, Halifax's The Blue Lane is definitive proof that jazz is alive and well in the region. Rather than conforming to the traditional notion of jazz, The Blue Lane intertwines its songs with a unique amalgam of rockabilly, blues, indie, and pop music, resulting in a sound that is both forward-thinking and refreshing. "
"

In their typical fashion, it's a fusion of a few genres, ranging from the blues rock that features prominently in the song's guitar solo, to The Dandy Warhols-like matter-of-fact delivery of the lyrics." - Alex Cook
— The East
   The Blue Lane is a band from Nova Scotia, Canada. Blending jazz and blues with a rockabilly edge, the group can be compared to sounds like The Stray Cats, Django Reinhardt, and The Devil Makes Three. The members are bassist and lead vocalist Rachael Henderson, guitarist and vocalist Morgan Cruickshank, and drummer Serkan Süer.
   In 2018, The Blue Lane released a full length double concept album "Blue Land (Solar/Lunar)." The album was nominated for Music Nova Scotia's 2018 "Jazz Recording of the Year. "The jazz-inspired instrumental of the songs combined with the folk-style lyrics make for a truly unique combination…,"(Maggie Mclean – The East Mag, Sept 24, 2018). 
The Blue Lane's EP "Blind" was awarded Music Nova Scotia's 2017 "Jazz Recording of the Year." The title track "Blind" is featured in the American drama film "Every 21 Seconds," directed by Kuba Luczkiewicz.